Sep 14, 2020 08:47 PM Central
Alison Nobles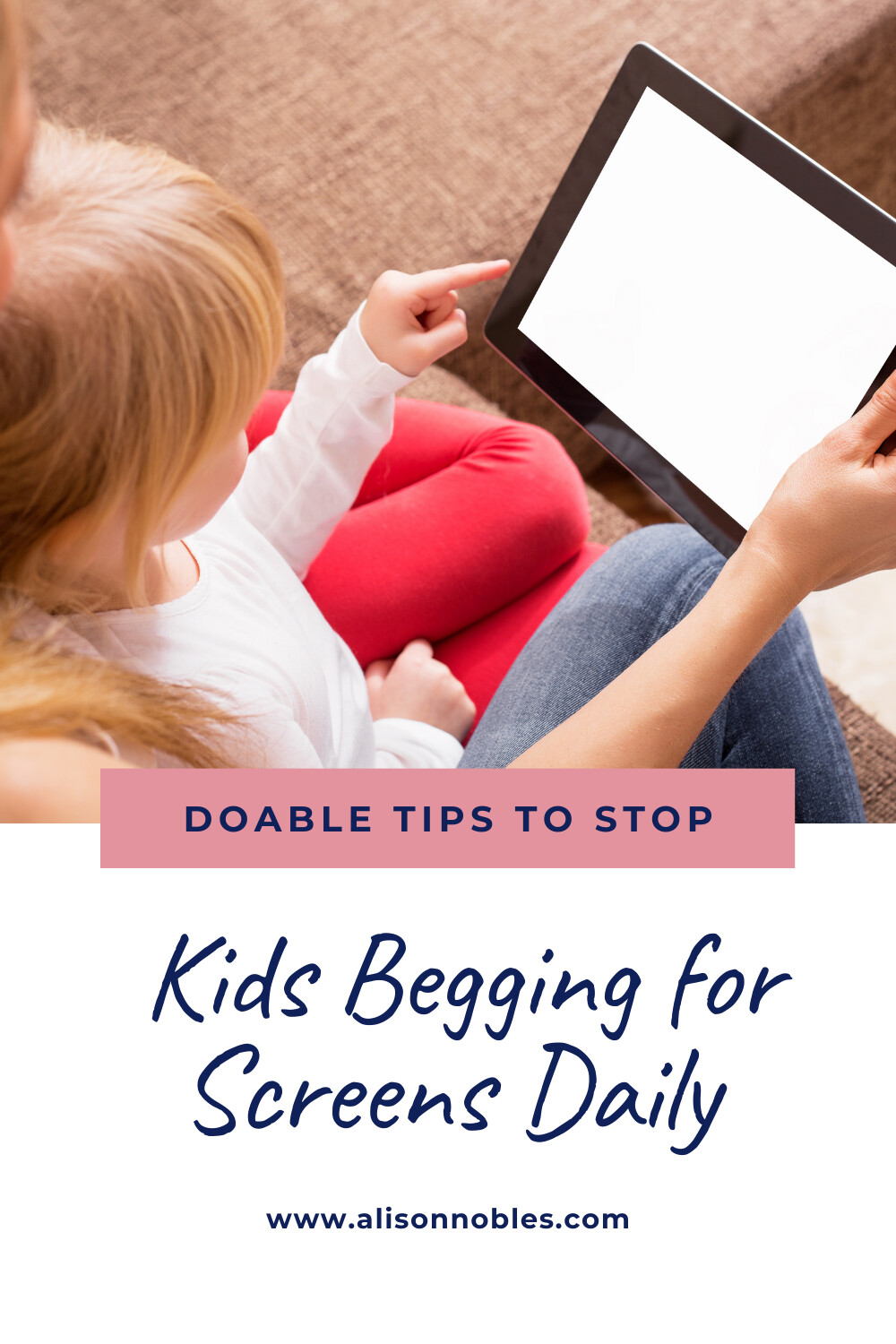 How to Get Kids to Stop Begging For Screens Daily

How do you feel when your kids keep asking you if they can play the I-pad, watch TV, or play video games? Do you sometimes wish that these devices would just go away so you didn't have to deal with them at all? I hear you! There was a time when my kids wouldn't stop asking but then I set down some boundaries. Now they know what to expect and I don't feel overwhelmed by it. I know that in the future we will continue to set boundaries to keep it in check for the family.
Boundaries for Screen Time are Key!
In this post I'm referring to children that are kindergarten and up. Each family is going to be so different. How about some tips that have worked for our family to reduce screen time while still allowing them to participate? As kids get older and their friends are on devices and have different rules; it's important they know your boundaries.
Tips to Get Kids to Stop Begging For Screen Time Daily!
Here are my tips for reducing the constant asking and to help your child set healthy guidelines for themselves as they get older. These are not hardcore rules but boundaries that help us stay accountable.
First things first, no screens of any kind before the school day starts. I find this helps our day to start smoothly.
During the week they have certain goals they must accomplish before using any type of screen. This involves schoolwork, 30 minutes of movement, chores and serving others.
During the week they also have set days and times for playing games and using pads. Right now, they currently get 2 days in the afternoon.
The only screen time after dinner is TV. They know that if they can get all ready for bed by 8; then on occasion we will watch a quick 30-minute show together as a family.
Weekends are a bit different during the week. Saturdays are the most open day for us right now so there is more freedom. They know they can use devices on Saturday mornings but not until 8 am. Then if we are not involved in anything else, they can get a bit of time in the afternoon. Sunday mornings are only for a bit of TV. Once church starts on Sunday, the rest of the day is family day. Sometimes we like to sit as a family and watch Food Network, our favorite.
As you can see, this is not about making it so tight that there is no wiggle room, or they are feeling deprived. There is always room for change as life circumstances change too. For example, if they are involved in more activities outside the home or we find that they are having behavioral issues. The main goal is to give them set boundaries and guidelines that they can go by so they are not confused or asking when all the time.
One more quick tip for Screen Time Sanity!
For my 6 year old, who is still learning the concept of time and days of the week, it does help to see the example of his older siblings. Usually on Monday after the weekend when he has been allowed to have a bit more time he will ask to get on his Kindle or watch TV. I just tell him no and give him the reason why. I have found that the more you do this; the better they respond to your "no".
I hope you found these tips helpful. Remember, this is what works for our family. These are just ideas for you to think about and you have to do what works best for your family. It may take some trial and error and changing up what isn't working.
I want to hear what has worked for you so far. Comment below with your helpful tips!
Want to join a group of moms working on this parenting gig together and making it work, join
here
!