Feb 23, 2021 05:35 PM Central
Alison Nobles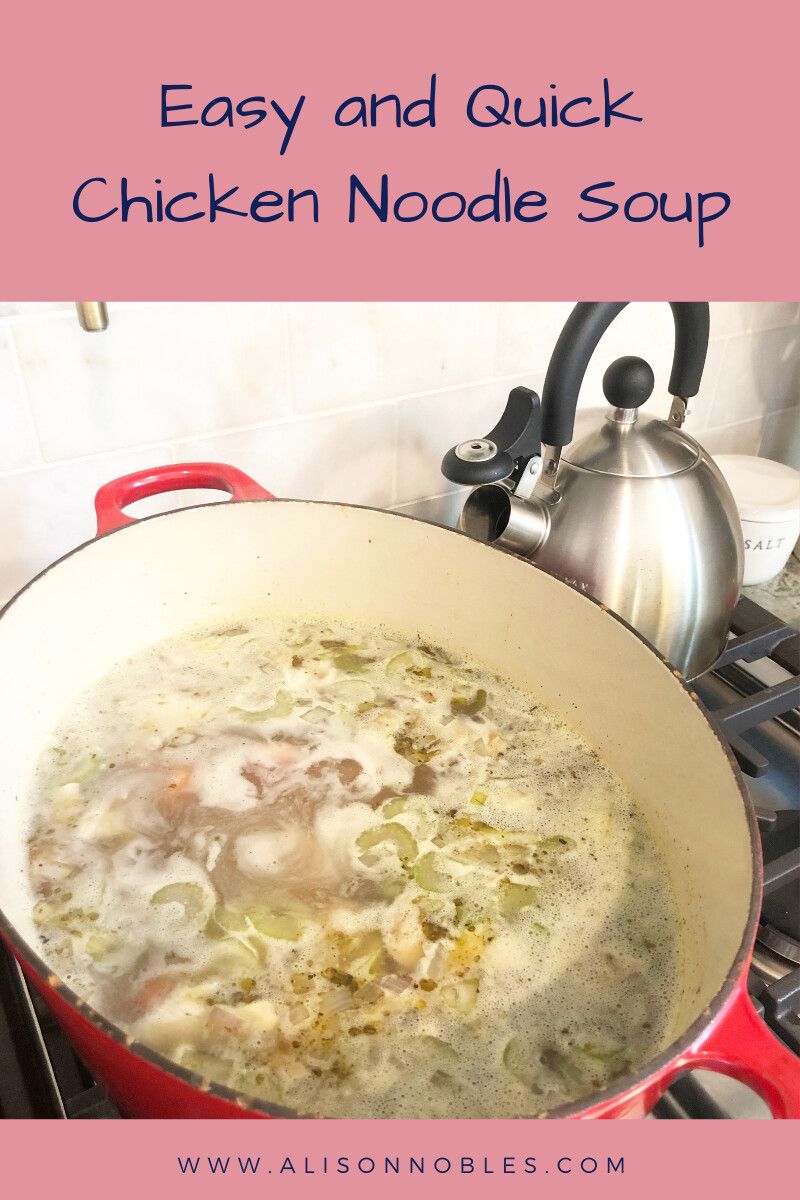 Easy Chicken Noodle Soup
Chicken noodle soup is so comforting and this recipe is so easy. You can throw it together at the last minute and have dinner on the table in no time. I love to add a salad to finish up this meal. I like mine with a lot of extra veggies. This recipe is versatile and you can add more or less. Just know that the more veggies you add, the more broth you may need because the noodles and veggies will soak up some of the broth.
What I really like to to make my life easier and meal planning efficient is to cook a whole chicken at the beginning of the week. This recipe for whole chicken is really so easy. Then I can use some of the leftover chicken to throw into my soup. You could also buy a rotisserie and throw it in the soup too.
Chicken Noodle Soup
Ingredients
2 Tbls unsalted butter or olive oil
1-2 cups sliced carrots
1 cup sliced celery
1/2 cup diced onion
8 cups low sodium chicken broth
2 chicken breasts cooked or 2-4 cups cooked chicken
3 cups egg noodles
1/2 tsp dry basil
1/2 tsp dry oregano
1/2 tsp salt
1/4 tsp garlic powder
1/4 tsp black pepper
Tip- I love to add my Young Living Basil and Oregano vitality oils for a punch of flavor and an immune boost to this soup.
Just turn off the heat and add 1-2 drops of each. That's all you need! It's powerful. We use those two oils in our home to stay well. Let me know if you want to learn more about this. Here's where you can get the Young Living Oils and access to our community to help support and educate you on how to use them and benefit.
Instructions
Melt butter or heat olive oil over medium heat in a large stock pot or dutch oven. Add the carrots, celery and, onion and cook until just tender (5-10 minutes). Add the chicken broth, shredded or cut chicken, noodles, and spices and stir to combine. Bring to a boil, then reduce heat and simmer for 20-25 minutes before serving.
*you may need to add broth or water to the leftovers to get some more liquid in you soup.
That's it! You can even add other veggies. Just make sure you add them at the appropriate time so they don't get mushy. For example, if you want to add zucchini or squash, wait until the last 10 minutes of cooking.
Let me know if you try this one. What are your favorite soups to make?