May 25, 2021 05:46 PM Central
Alison Nobles
When I was a kid and summer was coming the anticipation was almost too much to handle. Everyone was counting down the days of school and I remember that day when we walked out of school everything felt different. It was awesome and still is now that I have kids.
What do you like to do in the summer? We love to swim, go to the beach, sit outside for some meals and really go with the flow for some downtime.
Here are a few of the must haves in our home for the summer. We choose to use options that contain ingredients that are safe and effective so that we can improve our health and enjoy our summer at the same time.

YL Mineral Sunscreen- We love this one. It's safe and effective. It stays on well and is easy to rub in. This one is recommended by the Skin Cancer Foundation too.

YL Insect Repellent or Wipes
- this on is deet free and it works. Just say no to deet! Deet has been related to neurotoxicity and seizures. Don't have access to this one; make your own with
citronella
, purification and peppermint. There are a bunch of helpful recipes here.
YL Lavaderm After Sun Spray- This is a must have. It's great for everything from too much sun to bug bites.
Lavender
is also great for too much sun and very soothing to the skin. Really lavender is another summer must have. We use it for bug bites, sun exposure, boo boos and to relax in the evening.
Water Repellent Blanket- We use our Young Living one that we got free with the promos last year all the time. It folds up and we throw it in the back of the car. The one I linked is similar.
Stainless Steel Water Bottles- We do not go anywhere without a water bottle. When you use stainless, you can add our oils to have a refreshing drink. We love lemon vitality, orange vitality and grapefruit vitality. We like these and they come in different sizes plus they are reasonable in case you forget it somewhere. You know how that goes.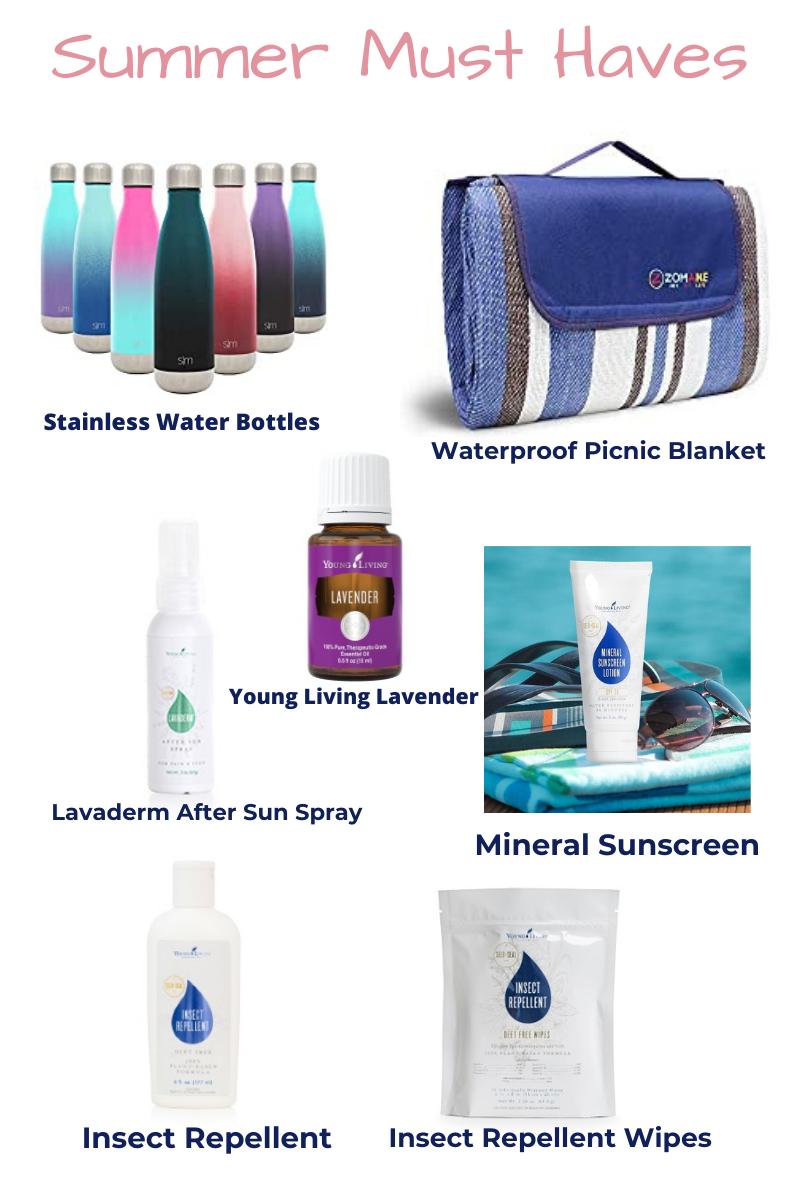 Here are some helpful tips on the Young Living Blog about 4 oils to add to your list and some DIYs too.

What summer plans do you have? What are some of your summer must haves?