Dec 7, 2020 10:56 PM Central
Alison Nobles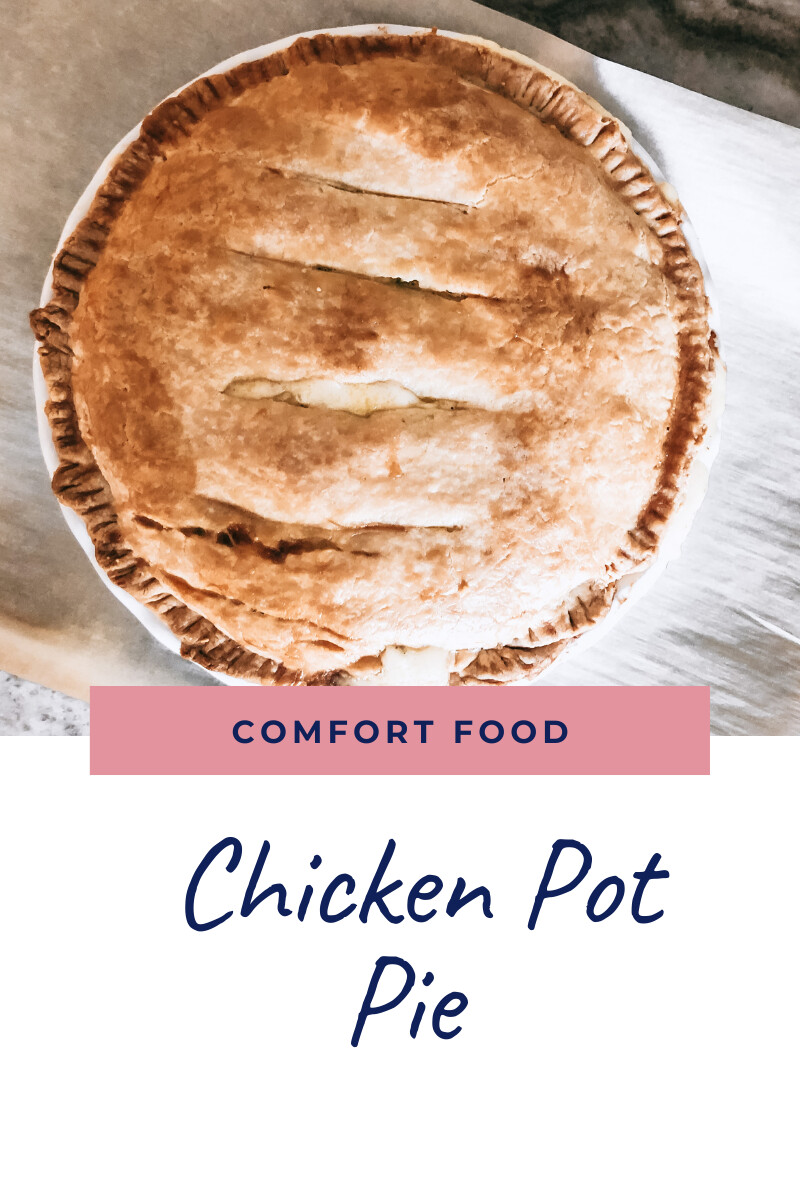 Chicken Pot Pie
I don't know about you but I'm a sucker for comfort food. I really love it when it's cold outside. One of my favorites is chicken pot pie. There is just something about all those yummy veggies and chicken mixed together in that delicious creamy sauce. Then you add crisp pie crust to it and it's comfort in one dish. We don't eat it often but when we do I'm one happy person. Here's the thing; I like my pot pie full of veggies. I want them about to burst out it's so full. I do not like to cut into a pot pie to find lots of sauce and just a little of the good stuff. So this recipe is full to the brim. I hope you love it as much as I do. This is a very versatile dish. You can even switch up some of the veggies. You don't have to add the potatoes either. If you do take any veggies out or the potatoes just make sure you add more of one veggie to keep the fullness of this recipe.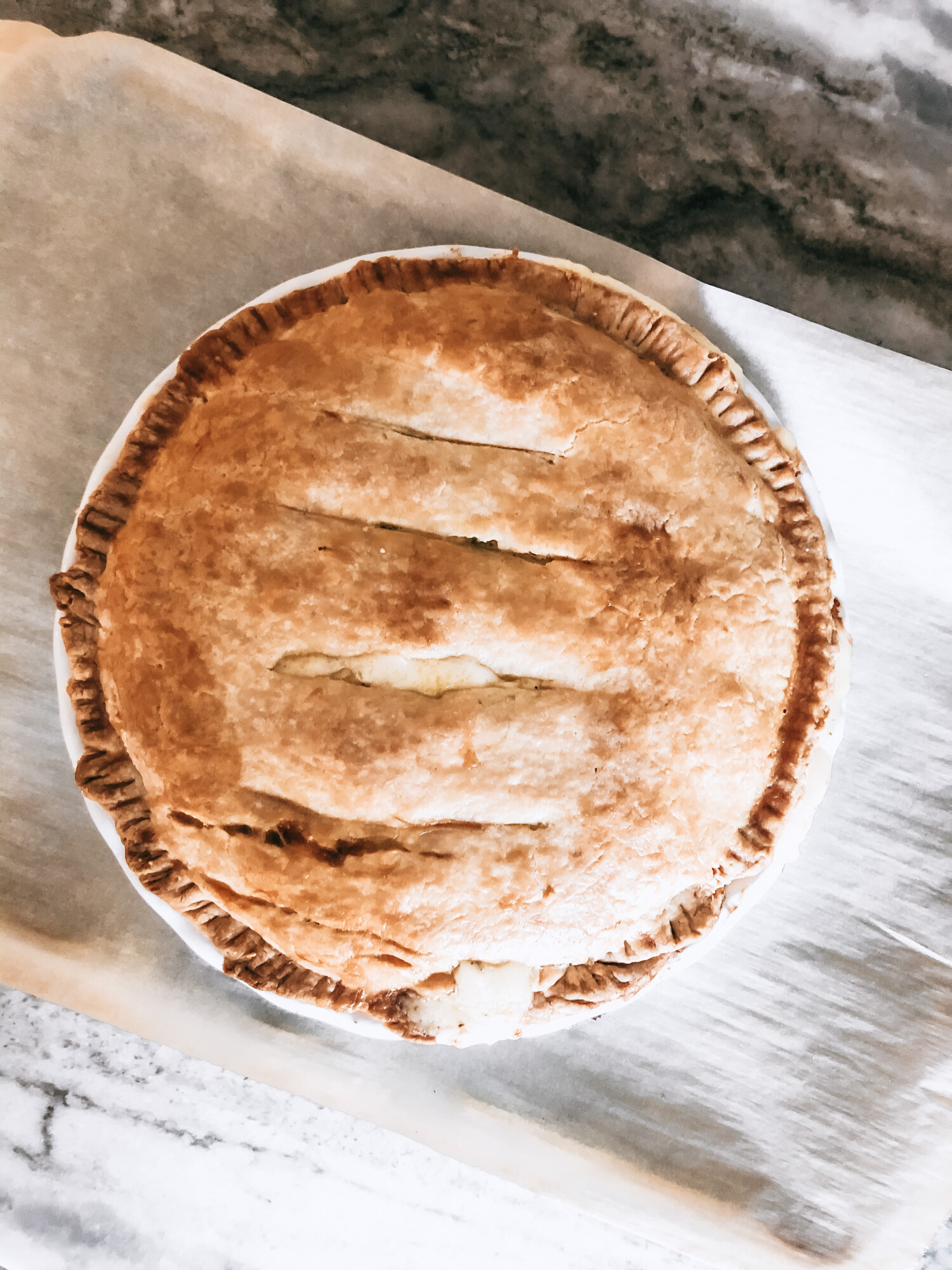 Chicken Pot Pie
Crust:
2 Store Bought Pie Crust (my favorite is Immaculate Baking Company)
1 large egg, beaten for egg wash
Filling:
1/2 onion, diced

4 medium carrots, sliced

3-4 diced roasted red potatoes (cube them and roast with olive oil at 425 for 25 minutes)

3-4 cups shredded cooked chicken
1 cup frozen peas or green beans

Preheat over to 400 F.

Grease a pie dish and put one pie crust on the bottom.
Heat the butter over medium heat in a large skillet. Add the onion, carrots, celery and garlic and cook until tender (5-10 minutes), stir occasionally. Whisk in the flour, herbs, spices and cook for about 1 minute. Add the chicken broth slowly while whisking. Then whisk in the heavy cream. Whisk until there are no lumps and then simmer over medium-low heat for 10 minutes or until sauce thickens. Stir in the shredded chicken and frozen peas. Remove from the heat.
Pour filling into the pie shell; mounding it in the middle. Put the other pie crust on top. Trim the overhanging pieces or seal them by crimping them to the other pie crust. With a sharp knife, slice a few slits in the center of the top crust. Using a pastry brush, brush the crust and edges with the beaten egg.
Bake for 45 minutes on a rimmed baking dish, or until the crust is golden brown. Cool for 10 minutes, cut into slices and serve.
Can be frozen for up to 1 month. This makes a great item to make ahead and pull out on a night that you don't have time to cook. It also makes a great dish to take to a new mom or someone in need of a meal.

You can make this with a gluten free crust. You could use a dairy free milk instead of heavy cream but it will change the flavor and won't possibly be as creamy.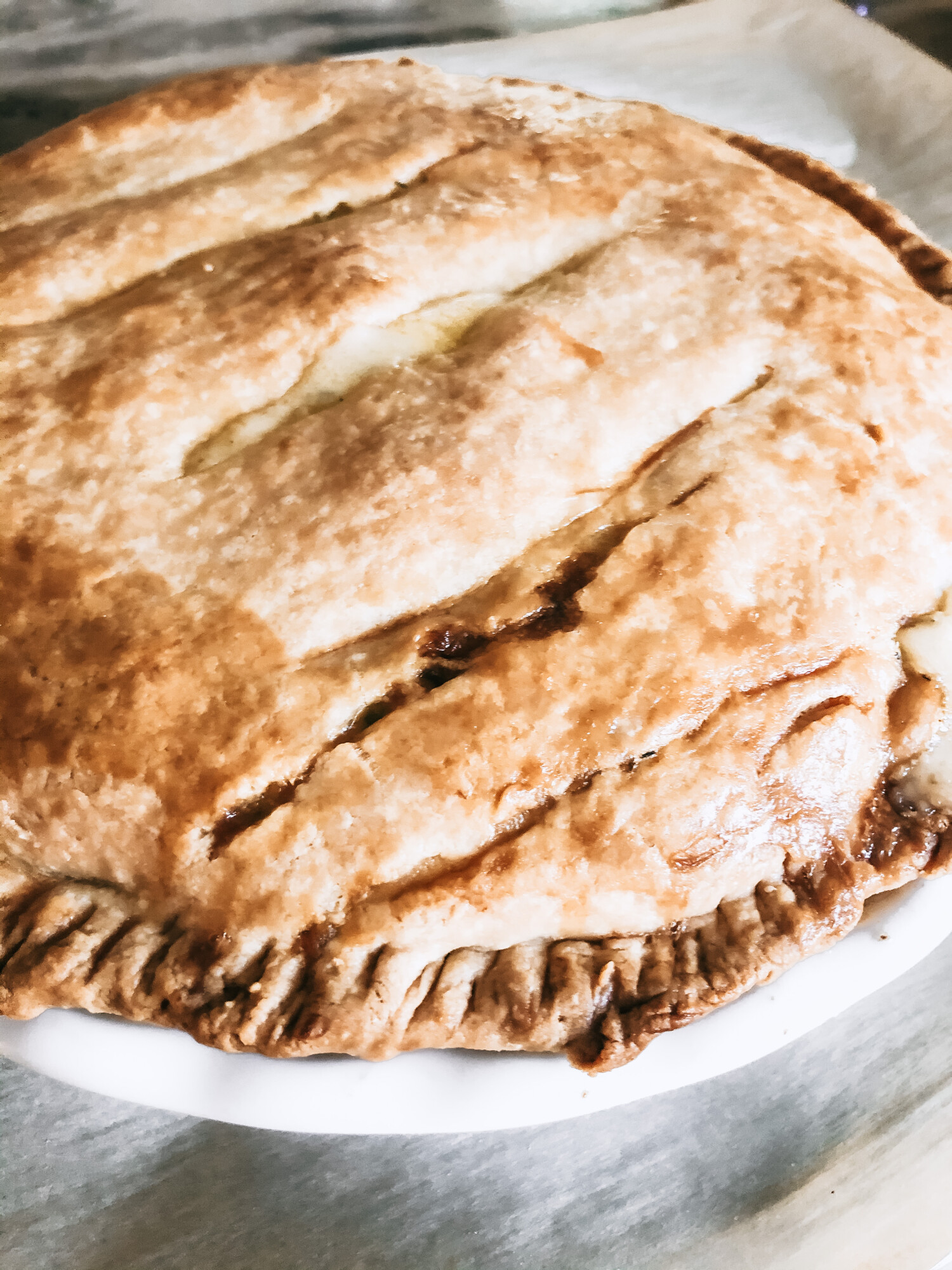 Let me know if you make this. I want to know what you think. Find a quick video on my
YouTube
channel.

Oct 11, 2020 08:56 PM Central
Alison Nobles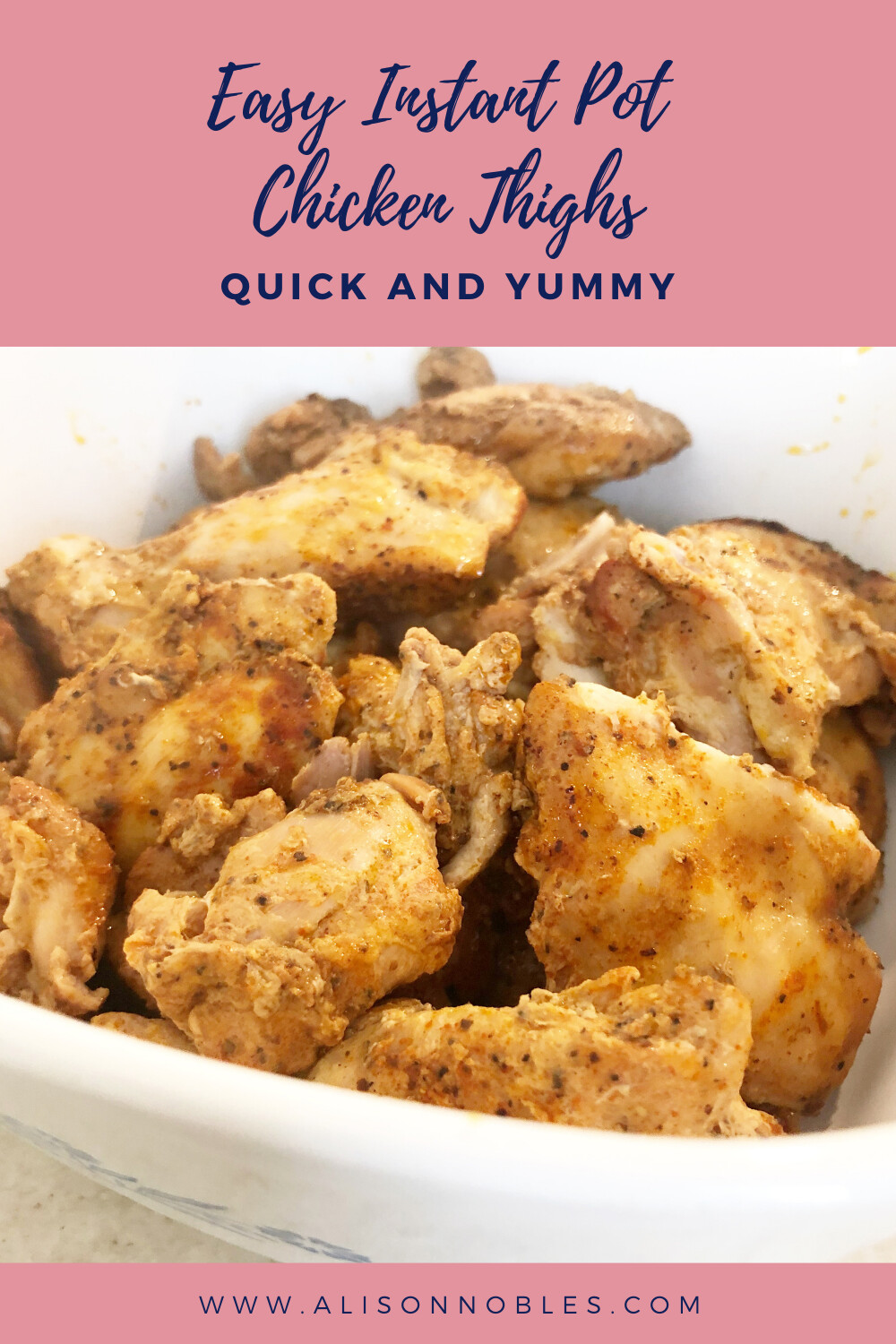 Easy Instant Pot Chicken Thighs
Do you use the Instant Pot? I resisted buying one for a while maybe because I was a through and through crockpot girl. Then my mother in law offered one to me so I thought why not. Here's what I like it for cooking meats quickly and still having them be tender. You can even throw frozen meat in there. I make rice in there and I'm excited to explore more options soon. Here's the
Instant Pot
I have.
Here's my go to Chicken Thigh Recipe in the Instant Pot. These are so easy to make, full of flavor and tender. I use both boneless and bone in chicken thighs. Your choice!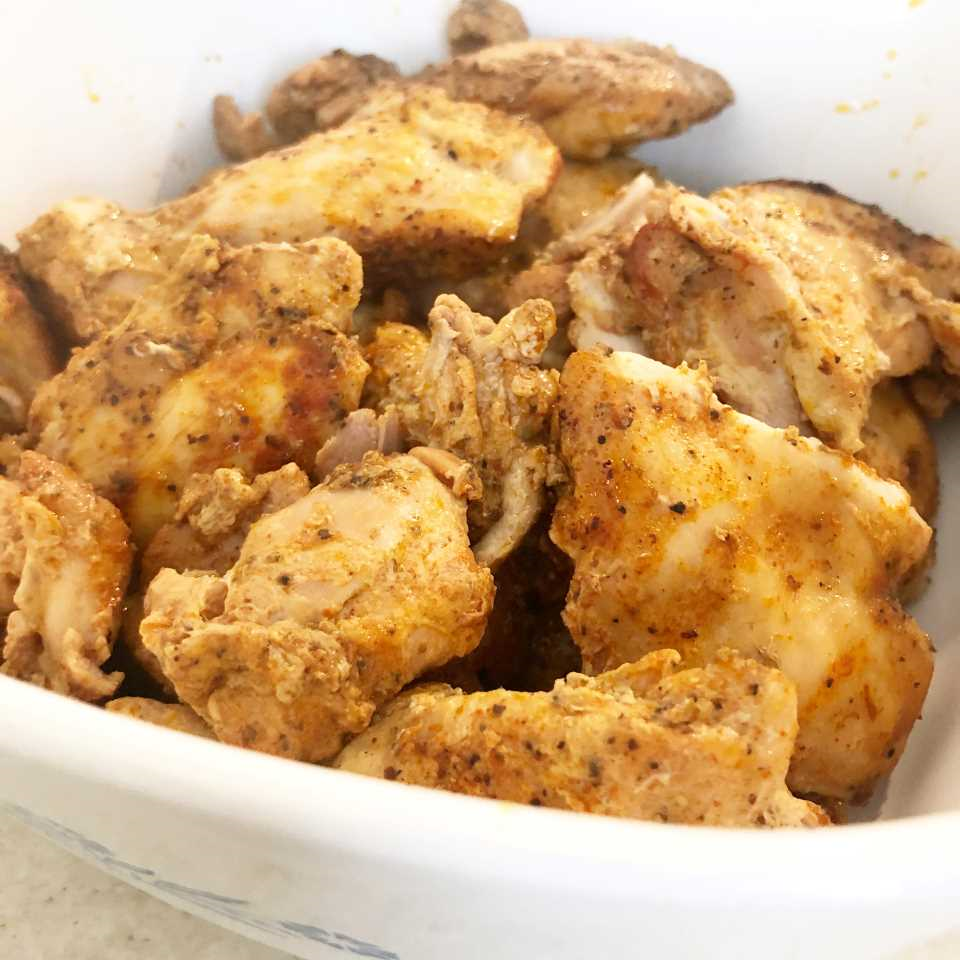 Easy Instant Pot Chicken Thighs
Prep Time: 15 Minutes
Cook Time: 25 Minutes
Total Time: 40 Minutes
12-14 Bone In or Boneless Chicken Thighs
Salt and Pepper to taste
2 tsp. Garlic
2 tsp. Smoked Paprika
1 cup Water or Broth
Lay the Chicken on a large plate or cutting board. Season one side of each chicken thigh (you could do the other side now but I do them in the Instant Pot).
Turn the Instant Pot on to Sauté feature. Start putting the seasoned side down without crowding the pot. Brown the thighs 2-3 minutes on the first side. While they are browning if you haven't done so, season the other side. Flip and brown the other side 2 minutes. Take them out and set on the plate. Do the rest of the thighs like this.
Remove all the thighs from the pot and add the water or broth to the pot. Scrape the bottom with a silicone or wooden spoon to get all the browned bits off. Cancel the Sauté function now.
Add the trivet and all the chicken thighs on top. Seal the lid and pressure cook on high for 10 minutes.
When the Instant Pot is finished cooking, do a 10 minute natural release. Then release the rest of the pressure with a quick release.
Remove the chicken from the pot and serve or put in the refrigerator for later.
These are so easy to make and I usually serve with rice and a veggie. Keep it simple! You can even make these earlier in the day and be ready to heat them up for dinner later.